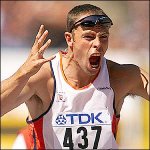 Decathlon's great challenge
The decathlon is two days of gruesome effort over ten events - running, jumping and throwing. Dean Macey's decathlon career was a tale of medals, near misses and a catalogue of injuries. He reveals all the pain and glory of competing against some of the world's finest athletes, and his love affair with the sport.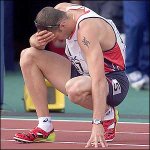 Extreme sport
Decathlon is 48 hours of solid effort – it's so harsh. After the first day's competition at the Athens Olympics, I was standing in an ice bath at 1.15am. I had two hours' sleep and was back on the track warming up at 5.45 for the start of the final day at 9am. Both days lasted 14 hours each. Athens was extreme.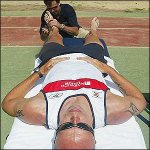 Waiting game
As well as competing, there's the media, the eating and all the treatment! The worst bit's the hanging around. In the rest room, it's you and the doctor, physio or coach. There's nobody to keep you company. You sit there staring at a big, ugly competitor 150 points ahead, thinking "how on earth am I going to take this guy down?".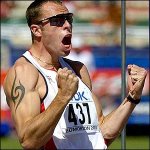 Early inspiration
Being told as a kid I wouldn't make it really spurred me on. I've now been in decathlon for over 15 years. I couldn't sit in a classroom, but I ran faster than everybody. When I became a pro in 1999, I had these aspirations to be rich so I could sit on my bum in retirement. My focus has changed and now I just want to prove I am number one.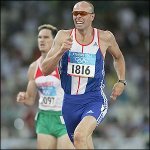 Olympic efforts
I would never usually hold back in any event, but I had to in Athens. I struggled in the build-up so I ended up running at 90% in the 100m and did one long jump. And then I felt my hamstring tugging. I wasn't in great shape by the end. I was very low and I'd had enough. I knew I'd be fourth and I just wanted to go home.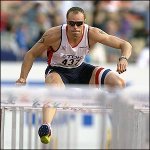 Playing catch-up
If I'm fit, I'll always go for it on day one and see where the opposition is. You don't want to take it easy, be 200 points behind and then have to work your butt off. At the 2001 world championships I had loads of injections for my groin and still went hell for leather. If my groin was going to explode, I was going to be in first place.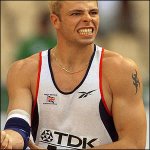 Painful lessons
I have had loads of injuries. I tore my hamstring just before the last Commonwealths, and I pulled out of the 2005 Worlds because of my knee. But I'm stubborn! Most people slow down when they hurt. I just get really annoyed. I dismiss the pain and push even harder – that is why I've got hurt so much.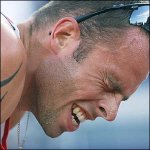 Tips from the top
I have absolutely no advice for coping with injuries. When I get injured, I am a horrible person to live with. I keep away from my wife and usually sleep in the spare room. It's not good enough to accept you are injured. You should be unhappy when you can't compete. I have felt like that since my very first injury.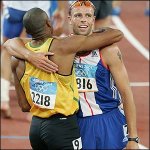 Friendly rivalry
I'm obviously very competitive, but also very easy-going. I'll always talk to my competitors and have a laugh. I get on with them all. We don't speak much during competition but afterwards we're often up until 3am talking about fishing. There's huge respect between everybody - even though I want to whup them!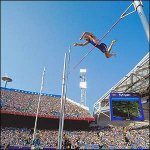 My favourites
My worst event by far in decathlon is pole vault. I'm too inconsistent - I hate it. And it only just beats javelin. They are the last two technical events and I'm usually completely knackered by then. My favourite is the high jump – I'm a natural jumper. The 1500m is all about how much heart you've got - or how big your balls are.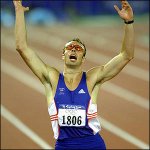 The big sell
Doing single events has nothing on this sport. The satisfaction and relief at the finish are amazing. My wedding was the best day of my life, but I get goose bumps talking about decathlon. I'm not loud at the end and I don't brag. If I won everything I'd just sit there and think "you're the man". Knowing I was good enough is what I'm after.