José, last year you broke the Colombian decathlon record. What are your plans for the near future?
First, find a way to bring together my personal bests into the perfect decathlon, and reach the top 15 in the world.
Do you think you can improve the national record again? Is 8000 points possible?
Yes, it is a matter of making small adjustments, to surpass the barrier that many decathletes in the world want to achieve.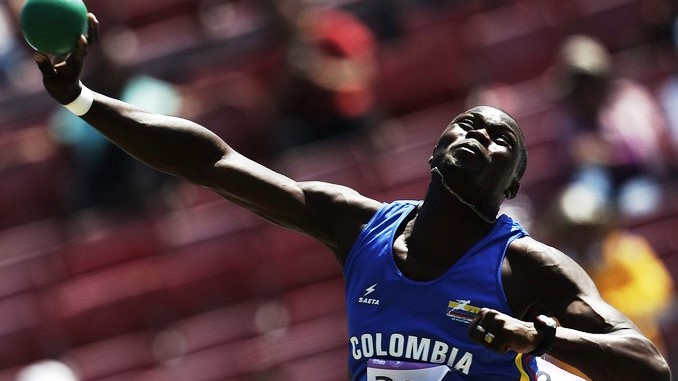 For decathletes with a PB of 7900 or more, your ability in the throws is huge. You are the best in the world, historically, among decathletes of your level.
Your best marks of 17.39 in shot, 55.12 in discus and 74.82 in javelin add up to 2878 points. During a decathlon your total of 2691 points is the 4th best number in history. Would you like to surpass Mike Smith's record of 2748 for throws within a decathlon?
Of course, they are goals that are not too far away to achieve.  As mentioned before, it is a matter of putting each of those performances together.
What do you think of the scoring tables? Do you think the throws are awarded too few points, relative to the sprints or jumps?
They are tables that are already established, but I believe the scoring is in fact aligned with the times and marks that are being seen at world class level.
What are your best marks in power tests and weightlifting? Snatch, clean and jerk, squats, chest or whatever else you do.
Squat: 120 Kg
Half squat: 240 Kg
Bench press: 120 Kg
Pullover: 70 Kg
Clean: 120 Kg
Snatch: 90 Kg
Push press: 100 Kg
In which events would you like to improve most?
Jumps and sprints
What is your height and your ideal weight for competition?
1.86 and 86 Kg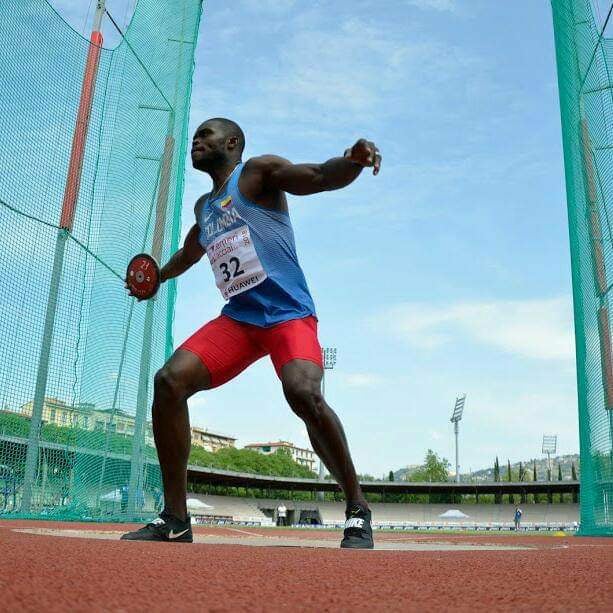 Who introduced you to decathlon and why do you do it?
During 2009, President Juan Luis Zapata Fuscalo approached me and asked me, as a favour, to do the combined events to help the score for my region, Valle del Cauca. I was lucky that at 17 years of age, I was senior national champion without having trained for the discipline. As a result, to see myself succeed, I decided to devote myself to this beautiful adventure.
Would you like to specialize in an event after finishing your career in the decathlon?
In my mind, there are 4 events that I would really like to do: javelin throw, discus throw, shot put and the 110m hurdles.
What is your favourite team or teams, in other sports?
My favourite sport, apart from athletics, is Colombian weightlifting.
When did you start in athletics and when did you start decathlon?
I started to do athletics in 2001 with the 75 m and 150 m events, as well as alternating high jump, shot and javelin to complete/help out the regional team. In 2009 I decided to go for combined events.
Did you practice any other sport before?
None.
How significant has your older sister, Sandra, been in your sporting career?
She has been a role model as a person, and as an athlete, showing me every day that regardless of the obstacles that arise, you have to continue fighting for what you want like she does with her three children: Yudisa Andrea, Dara Anyalid and Luis Yefry. In short, she is a very tough woman.
What influence did your time in Puerto Rico have on you and your career?
During the 7 years that I was based in San Juan, Puerto Rico, away from my family and my country, it taught me that we must take advantage of the opportunities that life gives us. Thanks to this opportunity life has granted me, I was able to mature at an early age, to focus on what I wanted.
Perhaps it is a curious fact, but your two most recent coaches are Cubans. How have they, both Ubaldo Duany and Osmany García, influenced your sports career and your development as an athlete and as a person?
The truth is, I thank my coach Ubaldo Duany for his dedication, and his education, sports and personal contribution that he gave me day after day, focusing on a single horizon, reaching the top of the Olympic podium.
Something that he shares with my current coach Osmany García who, day after day, continues to give me feedback on his academic and sports knowledge with the same approach - every day he tells me that I am the best in the world. For that I thank them both for who I am now.
Your results in decathlon improved a lot when you returned to Colombia and started training with Osmany. What changes do you feel there were in your preparation that led to this great improvement?
In Puerto Rico I used to be a student athlete, which is very difficult because both things require a lot of concentration and dedication. When I arrived in Colombia I focused only on athletics, 100%, and the results followed
Have you dreamed of 8000 points? Do you think it is possible?
Like all athletes we want to go where no other has gone, and as part of that it is obvious to try and overcome this barrier.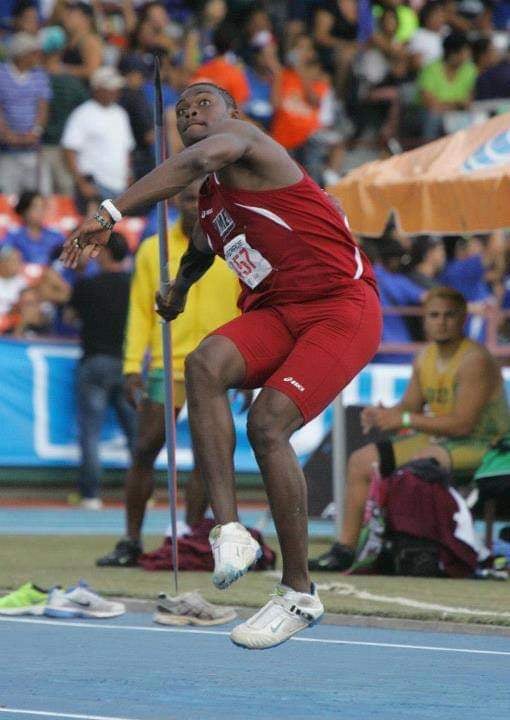 What are your dreams within the sport? And in life?
My dream is to reach the most important event in the world, such as the Olympic Games and to be at the top of the podium. This helps me develop new talents and reach where I want to go or much higher.
Are you married? Have you started your own family?
I am not married, and I have not started my own family.
What did you study in Puerto Rico? Have you thought about focusing on that that, in the future, when you retire from sport?
In Puerto Rico I completed my Bachelor's Degree in Recreation and Sports with a Master's Degree in Administration and Supervision of Recreational and Sports Services. I would like that to guide my life when I retire from competition.
Do you have a hobby, a passion that goes beyond sports?
Getting together with my family is my hobby.
What is your favourite music? Do you like to dance?
I like the salsa genre, and my favourite singers are Van Van from Cuba and Maikel Blanco.
If you weren't an athlete, what would you want to be?
I think I would have been a Community Leader.